>
>
Neue CUDA-Version von NVIDIA beschleunigt und vereinfacht wissenschaftliche Forschungen
Neue CUDA-Version von NVIDIA beschleunigt und vereinfacht wissenschaftliche Forschungen
Erstmals ermöglicht das "Expert Guidance System", die Leistung für CUDA-C/C++/Fortran-Anwendungen zu steigern

Gebhardt Böhles Public Relations GmbH
Boris Böhles
Geschäftsführender Gesellschafter
Tel. +49 (0) 89 9230 6709 22
boehles@gbpublic.de
Santa Clara, Kalifornien, 26. Januar 2012 — NVIDIA hat heute eine neue Version seiner parallelen Berechnungsarchitektur CUDA veröffentlicht. Das Update verbessert Simulationen und Rechenaufgaben unter der Verwendung von GPUs deutlich. Davon profitieren Biologen, Chemiker, Physiker und andere Forscher sowie Ingenieure.
Die neue NVIDIA-CUDA-Berechnungsarchitektur beinhaltet drei Schlüsselfunktionen, die paralleles Programmieren mit GPUs einfacher, zugänglicher und schneller machen:
Der überarbeite "Visual Profiler" verfügt über eine automatische Leistungsanalyse zur einfacheren Beschleunigung von Anwendungen
Ein neuer Compiler, der auf der weit verbreiteten LLVM-Open-Source-Compiler-Infrastruktur basiert, liefert einen Geschwindigkeitsgewinn in Anwendungen um bis zu zehn Prozent
Hunderte neue Funktionen zur Bild- und Signalverarbeitung verdoppeln die Größe der NVIDIA-Performance-Primitives-(NPP)-Bibliothek
Lesen Sie mehr dazu in der unten angefügten englischen Pressemitteilung.
SANTA CLARA, Calif.—Jan. 26, 2012—NVIDIA today released a new version of its CUDA parallel computing platform, which will make it easier for computational biologists, chemists, physicists, geophysicists, other researchers, and engineers to advance their simulations and computational work by using GPUs.
The new NVIDIA® CUDA® parallel computing platform features three key enhancements that make parallel programing with GPUs easier, more accessible and faster. These include:
Re-designed Visual Profiler with automated performance analysis, providing an
easier path to application acceleration
New compiler, based on the widely-used LLVM open-source compiler infrastructure, delivering up to 10 percent speed up in application performance
Hundreds of new imaging and signal processing functions, doubling the size of the NVIDIA Performance Primitives (NPP) library
"The new visual profiler is amazing," said Joshua Anderson, lead developer of the HOOMD-blue open source molecular dynamics project. "With just a few clicks, it performs an automated performance analysis of your application, highlights likely problem areas, and then provides links to best-practice suggestions on improving them. It makes it quick and easy for virtually all developers to accelerate a broad range of applications."
"The LLVM complier gave me an almost immediate 10 percent performance speed up, just by recompiling my existing real-time financial risk analysis code," said Gilles Civario, senior software architect at the Irish Centre for High-End Computing. "I can only imagine the additional performance gains I can achieve with additional tuning using the new CUDA release."
Among the new features of the latest CUDA parallel computing platform release – available free of charge on the NVIDIA developer web site at //developer.nvidia.com/getcuda – are:
New Visual Profiler – Easiest path to performance optimization
The new Visual Profiler makes it easy for developers at all experience levels to optimize their code for maximum performance. Featuring automated performance analysis and an expert guidance system that delivers step-by-step optimization suggestions, the Visual Profiler identifies application performance bottlenecks and recommends actions, with links to the optimization guides. Using the new Visual Profiler, performance bottlenecks are easily identified and actionable.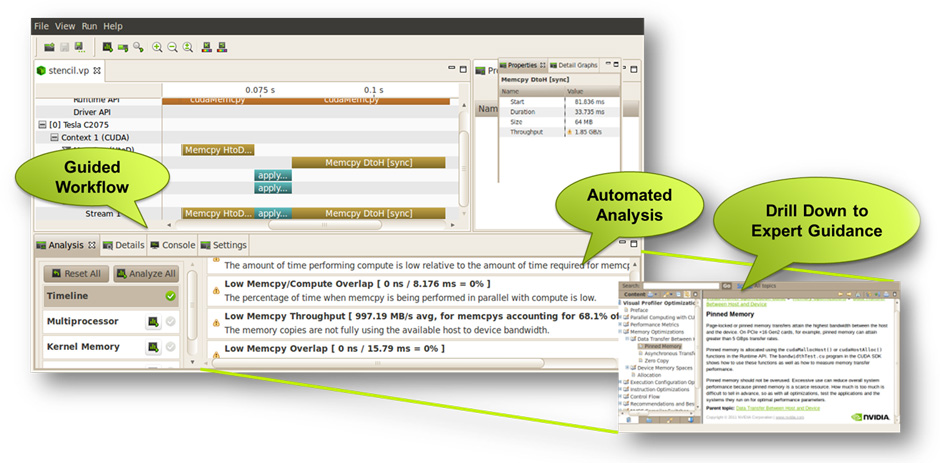 Figure 1: Der neue NVIDIA-CUDA-Visual-Profiler: Vereinfachte Code-Optimierung zur Leistungssteigerung
LLVM Compiler – Instant 10 percent increase in application performance
LLVM is a widely-used open-source compiler infrastructure featuring a modular design that makes it easy to add support for new programming languages and processor architectures. Using the new LLVM-based CUDA compiler, developers can achieve up to 10 percent additional performance gains on existing GPU-accelerated applications with a simple recompile. In addition, LLVM's modular design allows third-party software tool developers to provide a custom LLVM solution for non-NVIDIA processor architectures, enabling CUDA applications to run across NVIDIA GPUs, as well as those from other vendors.
New Image, Signal Processing Library Functions – "Drop-in" Acceleration with NPP Library
NVIDIA has doubled the size of its NPP library, with the addition of hundreds of new image and signal processing functions. This enables virtually any developer using image or signal processing algorithms to easily gain the benefit of GPU acceleration, with the simple addition of library calls into their application. The updated NPP library can be used for a wide variety of image and signal processing algorithms, ranging from basic filtering to advanced workflows.
Über NVIDA CUDA
CUDA ist NVIDIAs parallele Computing-Architektur, die einen dramatischen Anstieg der Rechenleistung unter dem Einsatz von GPUs ermöglicht. NVIDIA-CUDA-GPUs unterstützen sämtliche GPU-Programmierungs-Modelle, APIs und Sprachen, darunter CUDA C/C++/Fortran, OpenCL, DirectCompute und das kürzlich vorgestellte Microsoft C++ AMP. Über 500 Universitäten weltweit haben die CUDA-Programmierung bereits in ihre Lehrpläne aufgenommen. Weitere Informationen zur NVIDIA CUDA-Technologie finden Sie auf der CUDA-Website.
Über NVIDIA
NVIDIA (NASDAQ: NVDA) hat durch die Erfindung des Grafikprozessors (GPU) im Jahr 1999 die Computergrafik revolutioniert. Heute setzt eine Vielzahl von Produkten auf NVIDIA-Prozessoren wie Smartphones bis hin zu Supercomputern. NVIDIAs Mobilprozessoren kommen in Mobiltelefonen, Tablets und Infotainment-Systemen im Automobilbereich zum Einsatz. PC-Gamer schwören auf NVIDIA-GPUs, die für spektakuläre Spielewelten sorgen. Professionelle Anwender entwerfen mit ihrer Hilfe visuelle Effekte für die Filmindustrie und Produkte wie Fahrzeuge, Gebäude oder komplette Landschaften. Darüber hinaus nutzen Forscher High-Performance-Computer mit NVIDIA-GPUs, um in der Wissenschaft neue Meilensteine zu setzen. Das Unternehmen hält weltweit über 2.200 Patente. Weitere Informationen finden Sie unter www.nvidia.de.