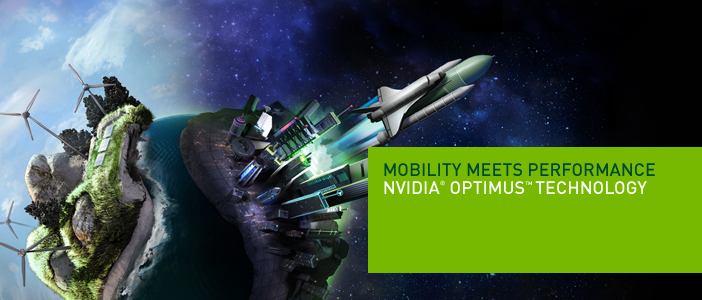 GREAT BATTERY LIFE AND GREAT PERFORMANCE. IT'S THAT SIMPLE.
NVIDIA

®

Optimus™ technology intelligently optimizes your notebook PC, providing the outstanding graphics performance you need, when you need it, all the while extending battery life for longer enjoyment.


Key Benefits:
Optimus technology is completely automatic allowing you to experience longer battery life and amazing visuals without having to manually change settings.
Behind the scenes and with no interference to what you're doing, Optimus seamlessly figures out how to best optimize your notebook computing experience.
NVIDIA graphics you've come to expect, with more than 10x better performance¹ with NVIDIA

®

CUDA™ technology, allowing you to enjoy your applications and games without interruption or worry.
¹ GeForce G210M compared to Intel Integrated GM45
* Optimus requires Windows 7 or later
GeForce 500M series invades notebooks
GeForce 500M series GPUs have arrived – watch out.
Upgrade to GeForce for the outstanding performance your on-the-go lifestyle demands.
Learn More
How Optimus Technology Works
THE BEST NOTEBOOK EXPERIENCE
Learn how it automatically manages battery life and performance to provide you with the best notebook experience - whether you're watching HD movies, surfing the web, or playing top 3D games.